How should I prepare my home for photos and showings?
When you list your home, if you want premium price, it needs to be in premium condition! It's very important that buyers see your home in its best light so that they can picture themselves living there. Even though they are looking at how many bedrooms and bathrooms you have, their ability to imagine living there day to day is ultimately what causes them to make an offer. So, to get your home looking "HGTV ready," here are the top 10 things to do: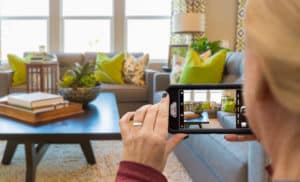 1. Put toilet seats down!
2. Remove the kitties and doggies for pictures (or at least make sure they aren't in any pictures.)
3. Turn off the TV.
4. Take all the magnets and pictures off the fridge.
5. Remove valuables, like guns, for privacy.
6. Clear all the clutter from bathrooms, the kitchen, and tops of dressers/desks.
7. Touch up trim paint and wall paint.
8. Consider neutralizing crazy wall paint colors.
9. Deep clean as if a Hollywood star is coming to visit.
10. Spruce up the front by removing weeds and putting out fresh mulch/flowers.